Glacier Lights+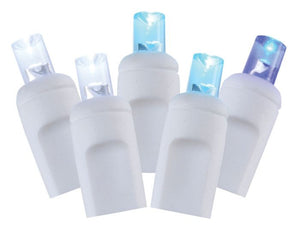 SKU: Versaline Glacier (Cool White/Aqua Marine/Blue) Light String, 48 LEDs, 3-Channel, White Wire
 Cool White/Aqua Marine/Blue
Embrace the festive season with these premium, commercial-grade LED lights. The 48 lights on this string are spaced 6 inches apart, making the string perfect for use on indoor and outdoor trees and for general decorating.
These 24 volt direct current LED lights are weather resistant and feature 3 channels, enabling spectacular visual effects not possible with traditional light strings. Up to 10 sets of these 24' strings can be connected end-to-end using a 60W power supply (sold separately) or larger for quick, hassle-free decorating.
Add a 10-function high or low-power controller (sold separately) to make the entire light display capable of phasing, morphing, flashing, chasing and more. Or add wireless control with an app-enabled, 10-function, high-power controller and connect up to 8 controllers simultaneously from a single smart device.
The wide angle (5mm) lens on each of the bulbs casts light in all directions, allowing for brighter and more brilliant displays, both indoor and out.
Designed for durability, the weather resistant construction of the heavy-duty bulbs on this light string reduces the chance of set failure due to moisture or loosened bulbs. Available in a variety of colors to match your holiday or design needs.
• 48 bulb Glacier (Cool White/Aqua Marine/Blue) LED light string on white wire
• 24' with bulbs spaced 6" apart
• Commercial-grade 5MM WA LEDs
• Weather resistant construction reduces chance of set failure
• Green wire blends easily with greenery and foliage
• Energy efficient: Uses only 1.44 Watts per set
 Please allow 8-10 days for shipping